The Citizenship (Amendment) Act (CAA), which amends the Citizenship Act of 1955 by introducing a religious criterion, was passed in the Parliament on 11thDecember 2019. Since then, the nation is witnessing strong political dissent in form of rallies and protests. International news portals, the UN and international educational institutes expressed strong condemnation of the government for passing this act. A steady stream of citizens is joining the protests days after the act has been passed.
Initial protests were led by college and university students who passionately raised slogans and carried hand-made posters with messages scribbled across the paper sheets, cardboards and chart papers. Support started flowing in soon. Within a day or less, graphic designers such as Kruttika Susarla and Hardik Tippannawar offered to design posters and banners for the protest. These posters in bright colours, bold typography and regional languages shout the messages loud and clear.
I'm a #graphicdesigner & I'm designing some posters/flyers for #CABProtests
If you are organising a protest, DM me if you would like me to design one for your protest as well.
Please retweet. pic.twitter.com/lF604uuHO3

— Hardik Tippannawar (@HardikTpnwr) December 13, 2019
Citizen (Amendment) Bill was introduced in the parliament on 9th, cleared in Lok Sabha on 10th and in Rajya Sabha on 11th, while people were still trying to understand the nuances and the implication of the act. Confusion and chaos ensued, with many still reeling to make sense of the CAA and the subsequent National Register of Citizens (NRC).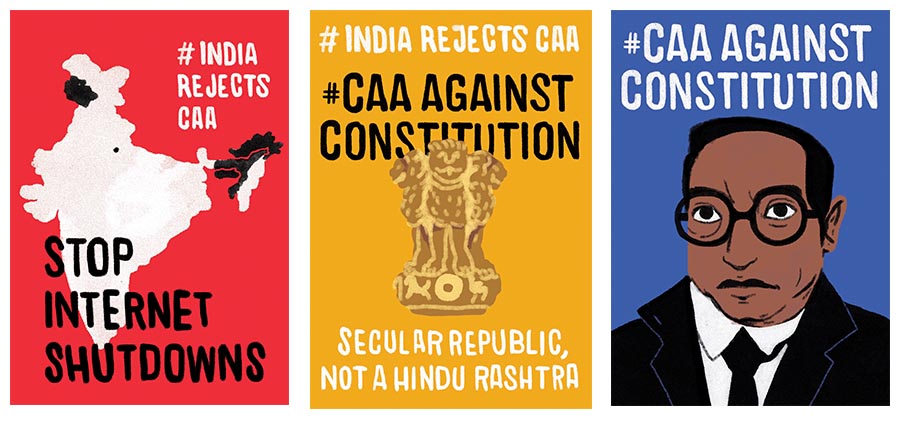 Kruttika who had shared WeTransfer link of high-resolution posters she designed (pretty much at breakneck speed) for protests shared an updated link with CAB changed to CAA. The bill indeed has been cemented into an act, and correct vocabulary and wordings are extremely important at these times.
Updated these to say CAA: https://t.co/vcw6ItzSL9 https://t.co/IenLwFWp6K

— Kruttika Susarla (@kruttikasusarla) December 16, 2019
Historian and biographer of Mahatma Gandhi, Ramchandra Guha, was detained by the police less than an hour ago and carried the Ambedkar poster designed by Kruttika.
Ramachandra Guha says he was detained for holding a poster of Ambedkar and Gandhi #CAA_NRC pic.twitter.com/PjaTRiCD5J

— Naghma Sahar (@NaghmaSahar) December 19, 2019
Hardik has designed five posters till now, and is busy working on banners for protests today. "With protests going on all around the country, I felt there should be a sense of unity among protestors and as a graphic designer, I felt I could contribute." Hardik said, and added, "For an important issue like this one the message has to be clear." His visual inspirations come from posters from the American civil rights movement, WW2 PSA posters by the American government, some obscure posters from the Iceland Women's day off, and some posters from the Women's March. He has also drawn inspiration from posters of USSR era. "Although I don't agree with the ideology, no one can deny [the posters] were effective," he said. He has collaborated with Events of Dissent, an online calendar which records previous and upcoming events like protests, rallies, marches etc.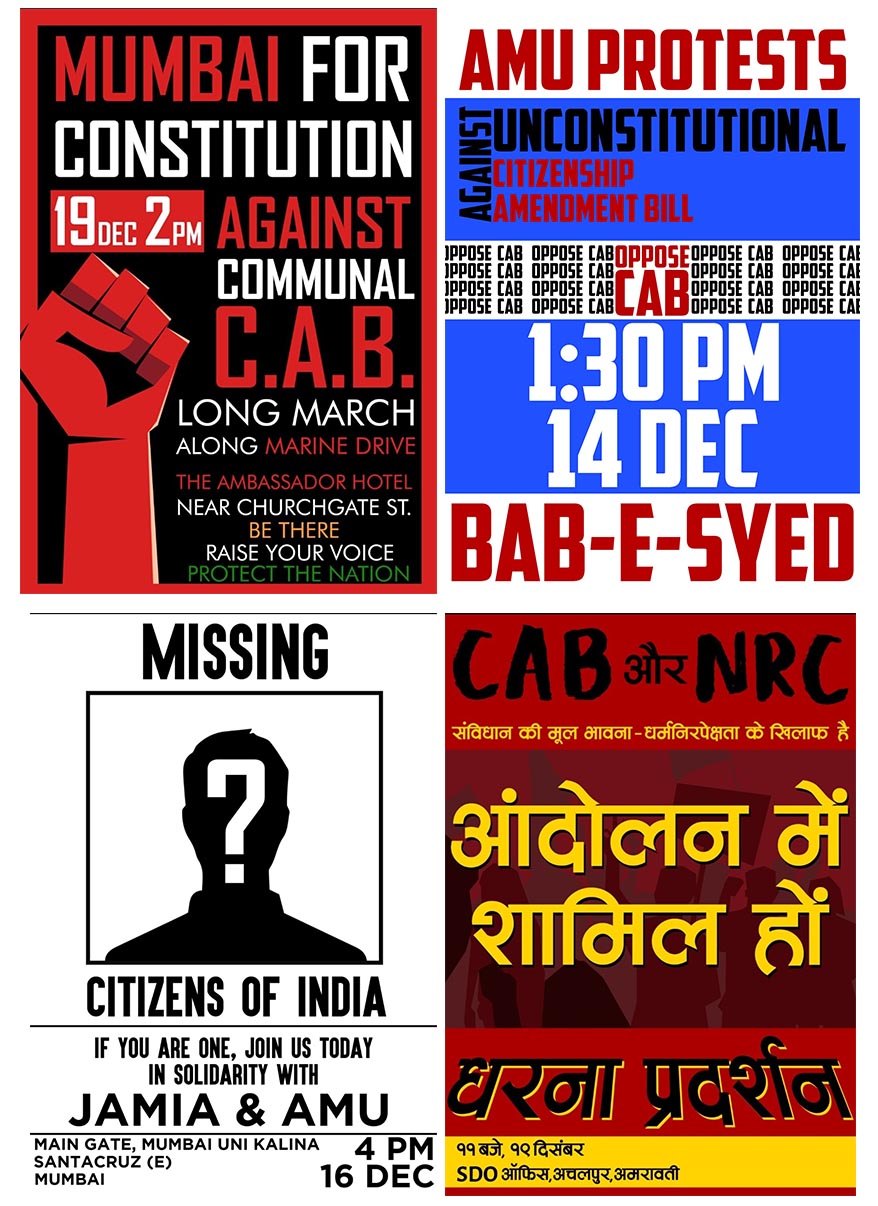 If patterns are any indication, perhaps another bill will be passed in a day. Speculations over National Register of Citizens of India (NRC) has been making many of the citizens anxious, and then there is an extremely important, data privacy bill to be presented in the winter session. What are these acts, what do they say, how do they affect us? Designers, be ready with all your tools for more posters, more infographics to communicate, clearly and precisely, the complex information about the bills introduced and acts passed, that deeply affects us all.
**